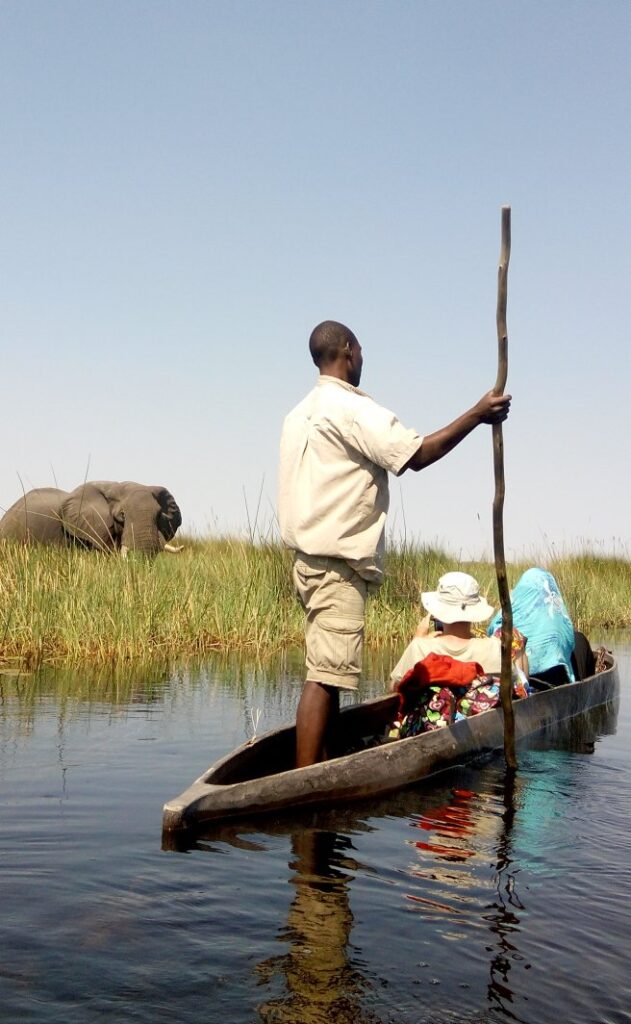 Mokoro Excursions
The Mokoro activities in NG32, an expansive wildlife concession that includes the Southern and Eastern Okavango Delta are run by the "Okavango Kopano Mokoro Community trust". Shangana Safaris acts purely as a facilitator of Mokoro activities.
We run these Mokoro trips both out of Maun and out of Lazy River.
For details of both types of trips please click on the links below.
Anyone wanting to do a 3 hour Mokoro excursion straight out of Lazy River, whether to go birdwatching, fishing or just to take in a bit of scenery we charge P400.00 for the mokoro that seats 2 people.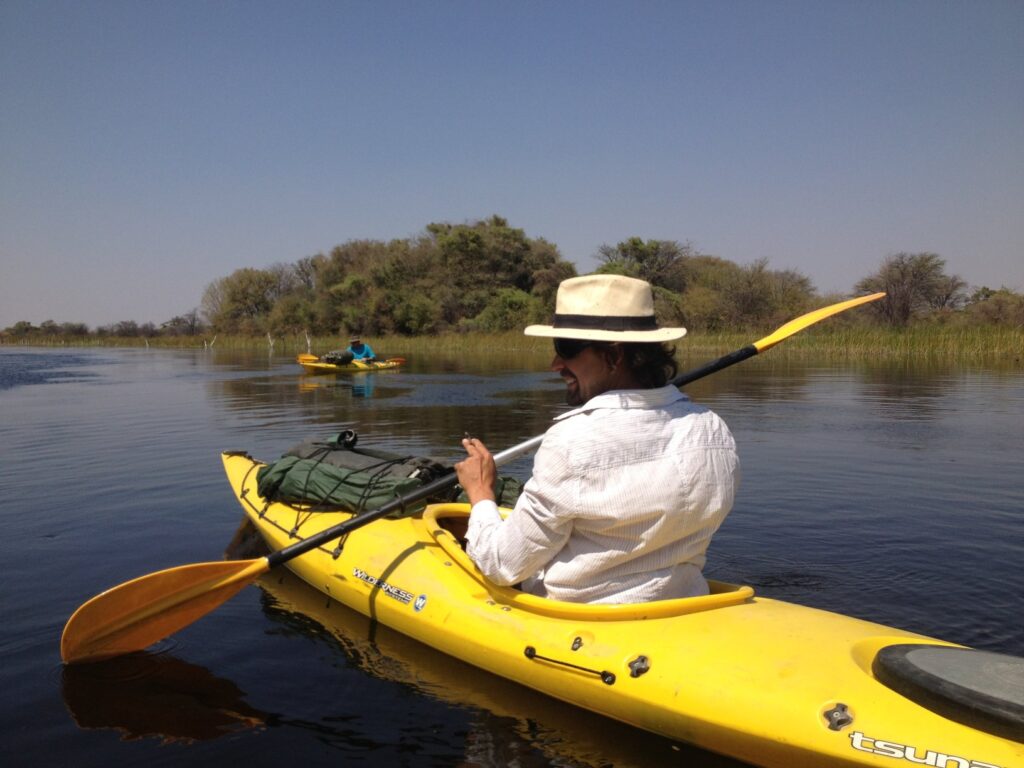 Kayaking
"Kayaktive Adventures" can take you out from Lazy River for a 3 hour guided excursion for P400.00 per person (Minimum 3 people) or book multi-day kayak trips through Kayaktive adventure safaris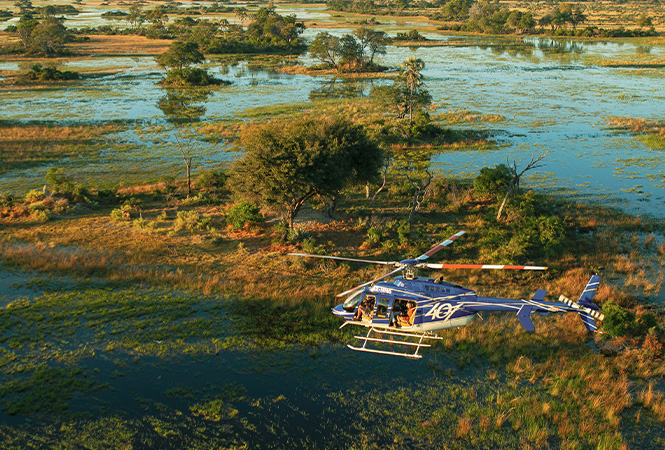 Helicopter scenic flights
"Helicopter Horizons" can take you for a 30 minute scenic flight over the Okavango Delta for US$ 290.00 per person
(Minimum 2 people)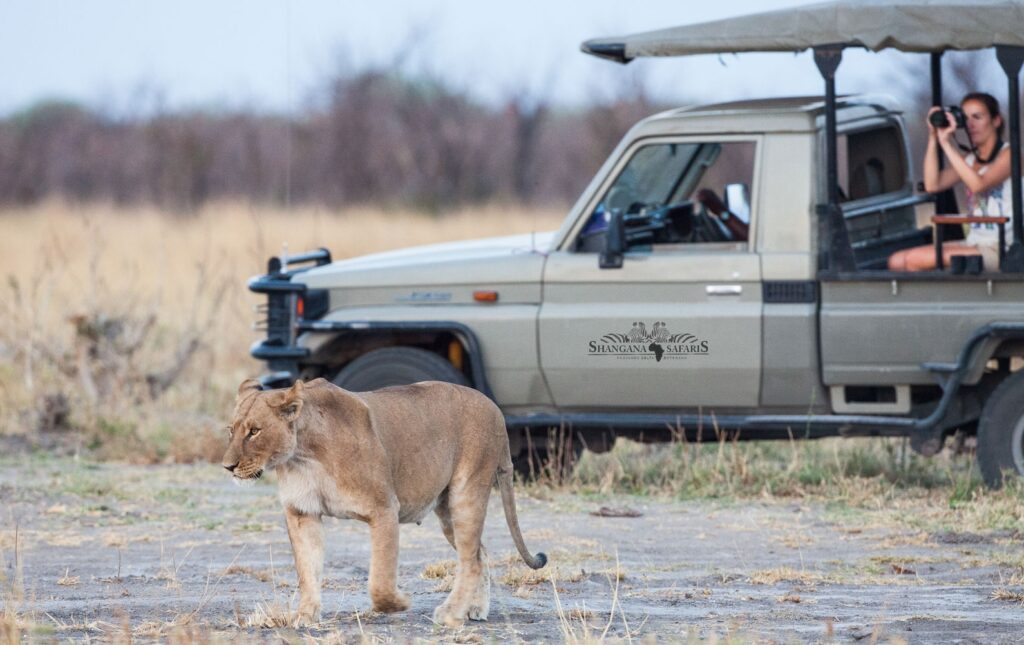 Game drives & Safaris
We run Day trips to Moremi Game Reserve and multi-day safaris to all the wildlife parks in the region.
5 Night Okavango / Moremi Safari

Day 1
We depart from Maun at 3pm for a 1 and a half hour drive to our "Lazy River" camp on the edge of the Delta.
Your 3m x 3m canvas dome tents with beds will be set up before your arrival and the cooking of a campfire dinner will be underway.
After enjoying a fire warmed shower you may sit back and watch the sun setting over a lagoon full of hippos and crocodiles.
A 2 course dinner will be served at 7:30pm.
Day 2
We will give you a wake up call At 5:30am for a full cooked breakfast served at 6:00am. Departure will be at 6:45am on your safari vehicle for a 1 hour 15 minute game drive to the mokoro station at Ditshipi.
Your Mokoro trip starts shortly after 8am. A couple of hours will be spent on the mekoro followed by a couple of hour game walk.
After the game walk a nice picnic spread is provided back at the mekoro after which a half hour relaxation spent in a nice shady location is a nice way to fully absorb your surroundings.
At around 2pm set off on a one hour downstream mokoro ride back to the mokoro station for the drive back to your riverside campsite for a warm shower and another wonderful Okavango sunset.
After dinner you have the option (if prearranged) to be entertained by a known local musician with a some acoustic traditional music around the fireplace.
Day 3
Breakfast on day 3 is served from 7:30 at a more leisurely pace as our departure on the safari vehicle to Moremi Game Reserve is at 9:30.
We arrive at Moremi South Gate at midday, from there we proceed to the Xini and Blackpools area on the game rich Western flood plains of Moremi.
We arrive at our campsite, have lunch and set up camp.
In the late afternoon we go on a couple of hour game drive, arriving back at sunset.
Our campsite in Xini is an exclusive "Botswana Guides Association" site, we will be the only group in the site for the nights we are there.
Your accommodation will be in 3meter x 3meter canvas dome tents with fully made up comfortable bedrolls.
They have a canvas screen attached to the back of the tent that encloses a bush toilet so there is no need to go wandering in the night.
Day 4
On your full day in Moremi you have the choice of either going out for a full day game drive with a packed picnic lunch or going out for a morning and an afternoon game drive, returning to camp for lunch and relaxation during the midday heat.
If you opt for the full day trip we will depart at around 7am after a full cooked breakfast.
If you prefer to do the morning and afternoon game drive we go out shortly after 5am depending on the time of the year.
Day 5
Wake up at 5am, have tea/coffee and cereal and set off on an early morning game drive returning back in camp at 9am for a full cooked brunch. At midday we break camp and set off for the return trip to "Lazy River", arriving in the late afternoon.
Day 6
Breakfast on your last morning with us is served from 7:30 and the return transfer to Maun departs at 9:30 arriving around 11:00.We can drop you off anywhere near central Maun.


Meals: (Vegetarian and Vegan options are available.) Early breakfast- Cereals, rusks tea and coffee.
Brunch- Eggs, beans, fried tomato, sausage and toast.
Light afternoon snack- Cold meats, salads breads.
Dinner- 2 courses, soup and a main or a main and desert.
Drinks:
3lts of drinking water per person per day & fruit juice for breakfast.
If you would like to take any drinks we will supply a cooler and ice.

Price
2 adults …………P16300.00 per adult
3 adults …………P14300.00 per adult
4 adults …………P13000.00 per adult
5 adults………….P12000.00 per adult
6 adults………….P12000.00 per adult
Kids below 8 years free but may not go on the mokoro ride.
A parent will be required to remain with them in camp.
Kids from 8 years to 12 years half price.
13 years and above full price.
Optional extra…Music on your 2nd evening By Stiger Sola…..P1000.00
For more information on our safaris please click on the link below