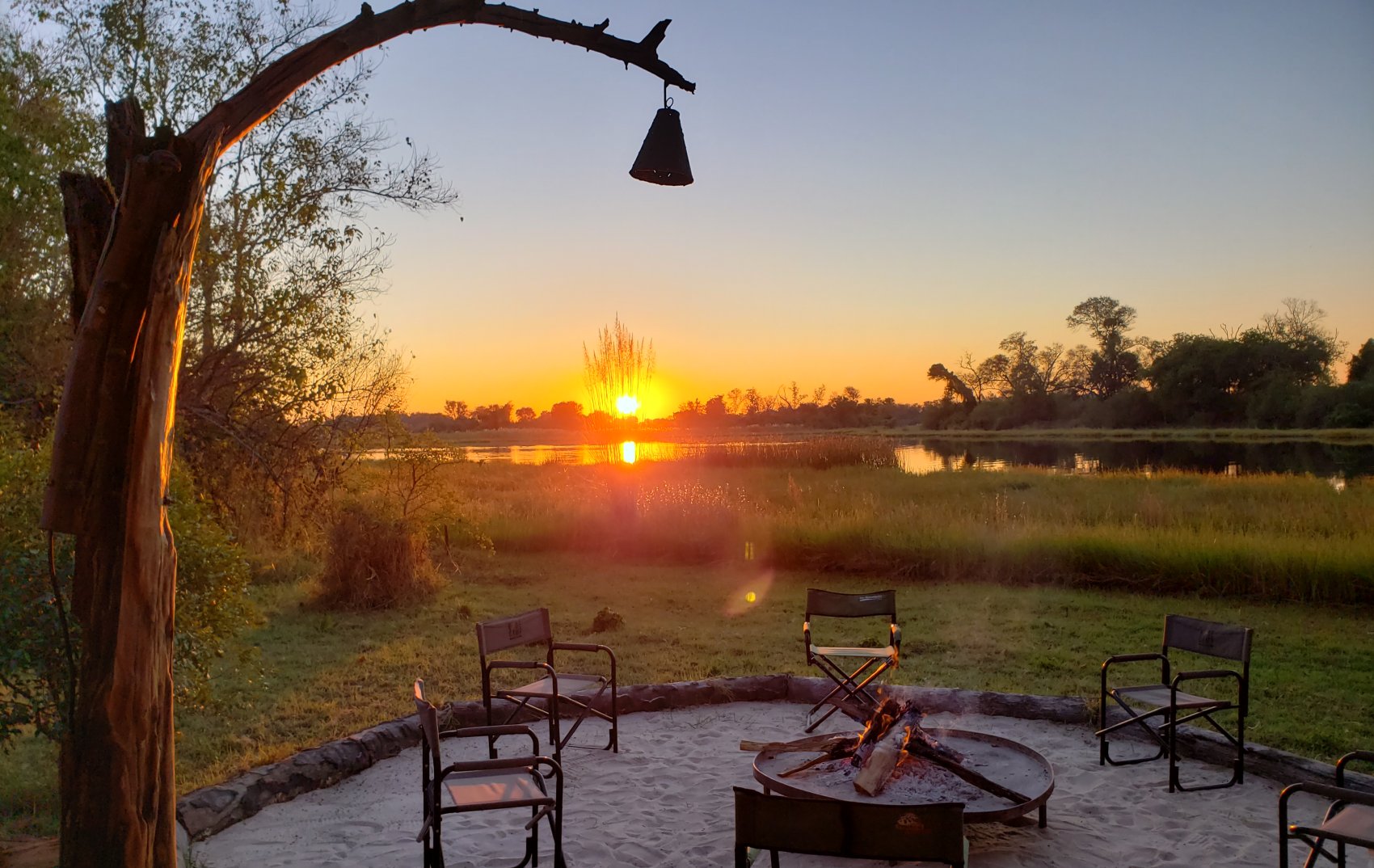 A scenic hour and a half drive from Botswana's tourism capitol Maun towards the Eastern Okavango, Shangana Safaris base "Lazy River" looks out over hippo filled lagoons on the Santantadibe river. Our simplistic brand of barefoot luxury will ensure that you feel at home from the moment you arrive. On arrival our guide will take you on a walk to familiarize you with your new surroundings.
Situated close to 3 mokoro "stations" we are well positioned for you to access various parts of the delta with a guide. Whether your wish is to go out for a few hours or a few days we can arrange your excursion through the community run mokoro trust.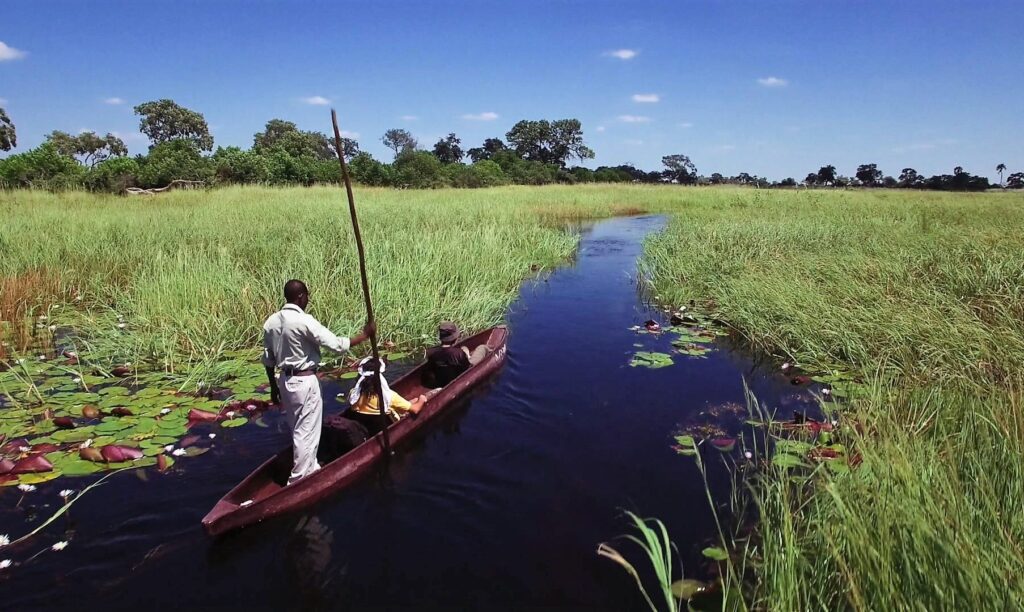 Our comfortable Island base is the perfect place to spend days of relaxation between mokoro trips and Okavango safaris. The main area has a dining room, mini bar and lounge area and a fire place overlooking the lagoon.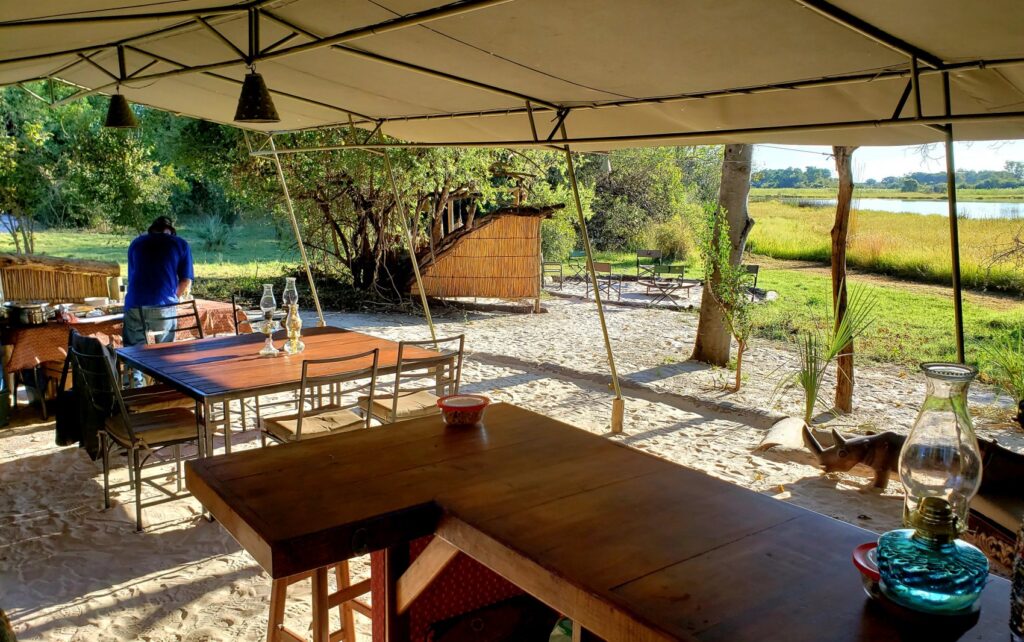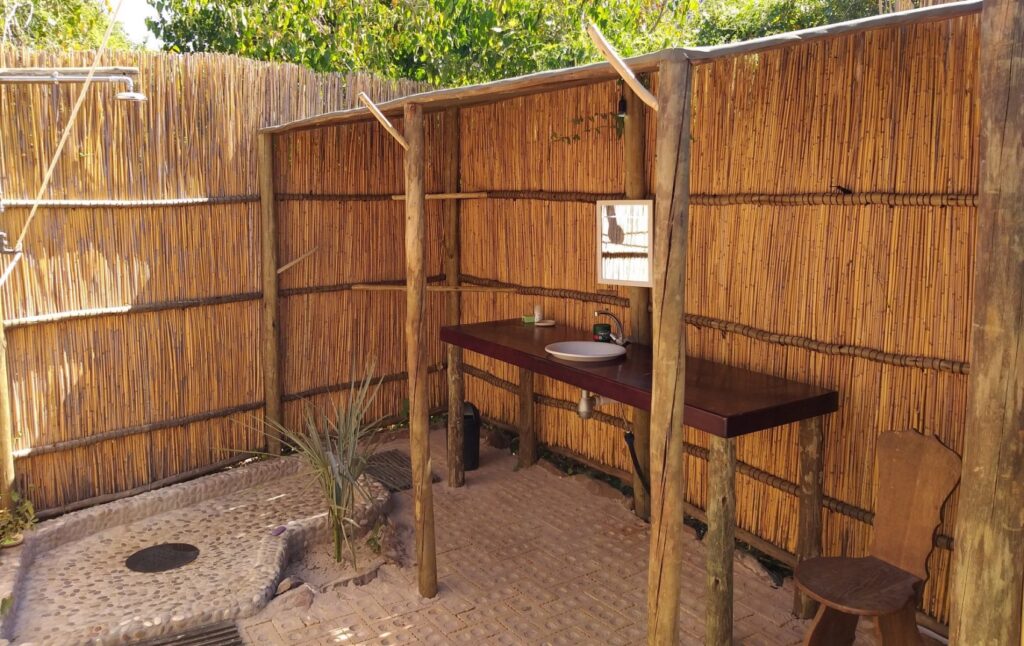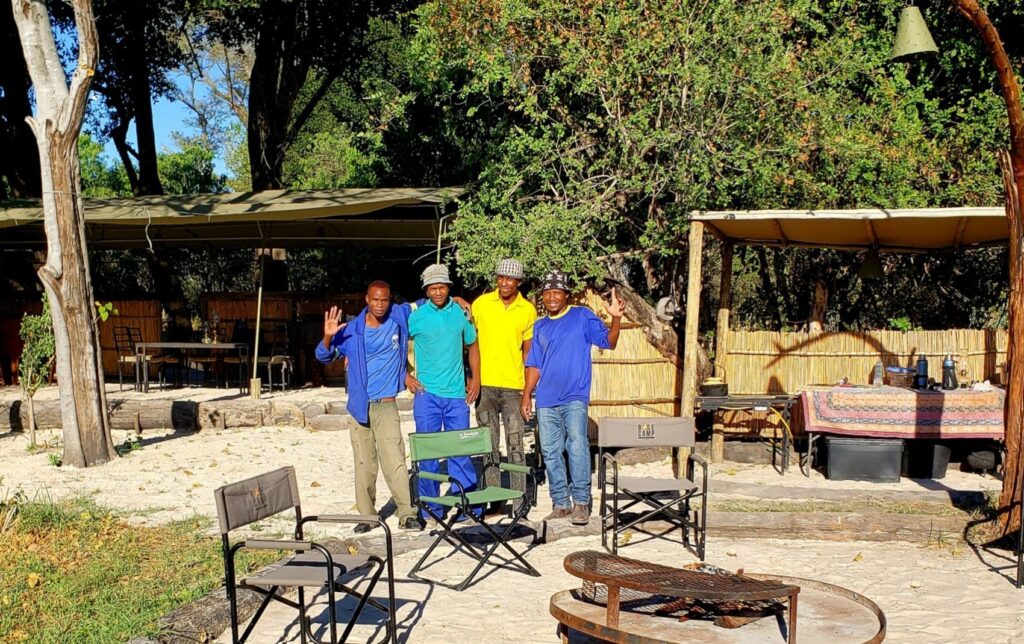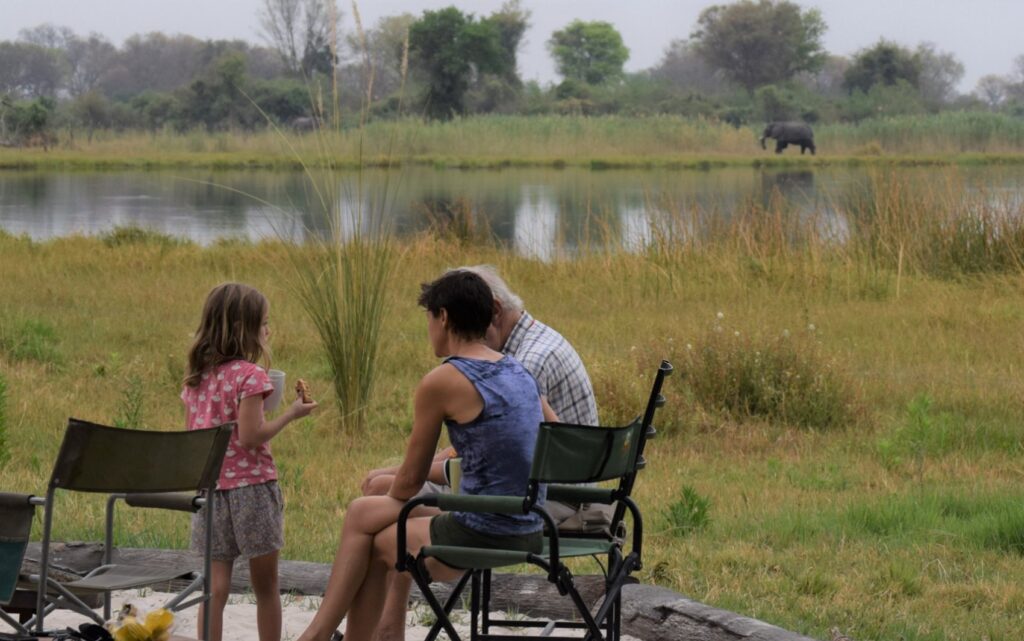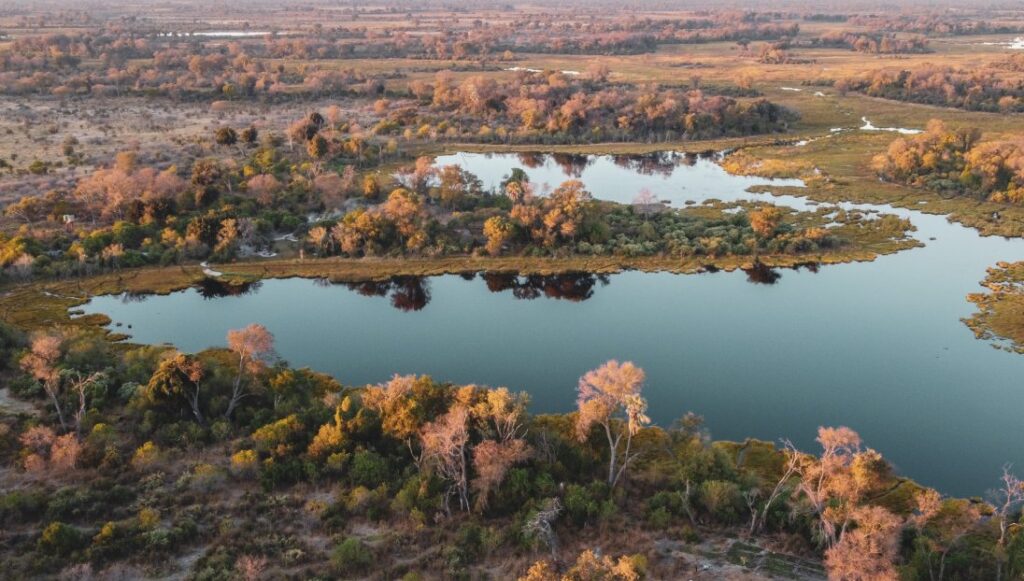 We are a mere 2kms outside the boundary of the wildlife areas of the Okavango. This Island Hideaway enjoys a stunning vantage over classic Okavango landscapes.
Our view is often visited by herds of Elephants. The very vocal resident hippos are always sure to make their presence known.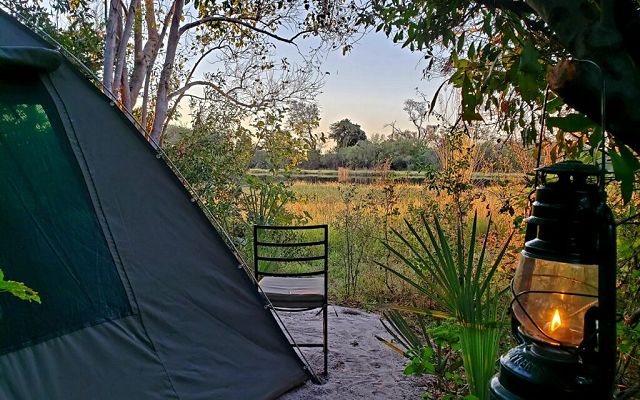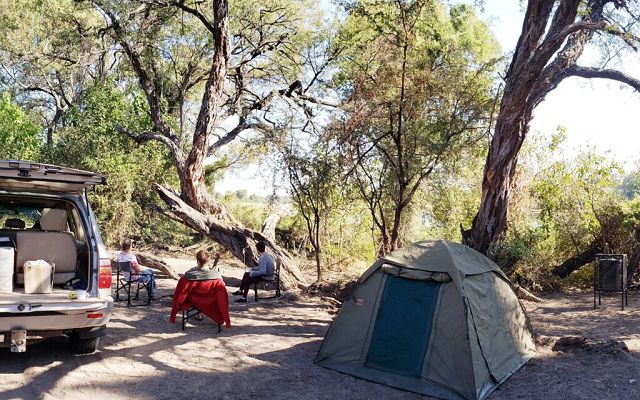 Hanging out in the shade at Lazy River Okavango Island.
"I spent two amazing nights at the Lazy River Camp on the edge of the Okavango Delta with a friend. This camp was wild luxury without incurring the luxury safari price. KG was our host over the two days and kindly picked us up and dropped us back to nearby Maun. Following a scenic one and a half hour drive we arrived at our camp to find a tranquil and breathtaking space. Snacks were waiting for us as we took in the spectacular view over the hippo lagoon.
The camp consists of a covered dining/seating area, a campfire and bathroom & shower facilities. If you want a magical night's sleep and a quiet place to connect with a loved one, this experience has it all. Fall asleep listening to the grunts of the hippos and the chiming of bell frogs in a bed that feels like you are submerged in a fluffy cloud. Indulge your taste buds with the traditional foods served at dinner. Allow your curiosity and sense of adventure run wild as you take a Mokoro through the Delta and wander the plains with an expert guide. We encountered numerous wildlife in a guilt free, leave no trace sustainable way. I cannot recommend this place highly enough. It was an experience of a lifetime."
Kate (May 2022)
"Thank you Helene and David, for the magical space you have created at Lazy River.
I feel very fortunate to have recently spent two peaceful nights camping on the edge of the hippo-filled lagoon. Lazy River is a balm for the soul.
The journey out there alone is magical, crossing the matrix of streams, floodplains and islands across a network of sand tracks and creaking pole bridges.
What I loved most about the camp is the combination of simplicity and comfort – and the way the camp blends into the environment, making one feel part of nature.
A hot shower and flush loo to take the edge off bush camping, levelled tent-stands, secret benches tucked into hidden spots for that early morning coffee while bird-watching, starlight, the grunts of hippos and far-off calls of lions and elephants – all these factors made for the most relaxing, restoring break.
I'll be back!"
-Lin (July 2021)
What can I say. Marta and I had a fabulous safari. We thank you both so much in providing us with such an enjoyable experience. Masters was A-1, second to none as a guide and great person.
I know he had 360 degree vision, spotting game and birds that we had to use binocs to pick up. We loved his tracking skills. One early morning, amongst a diffuse scatter of spur fowl tracks everywhere along the roadside Masters pointed out leopard prints over laid with
aardvark and porcupine tracks, quills dragging in the sand. In Alaska I've mastered the winter tracks of moose, wolves, foxes, otters and other critters but this analysis was beyond what I could perceive. Cool.
Thanks for sending us to the Boteti River and Deception Pan in the Kalahari. Nailed the zebras moving through the Boteti valley. Their constant braying and calling was great music. Will never forget the zebras and wildebeest kicking up clouds of dust, silhouetted
against a setting sun, a surreal image. The birdlife was exceptional, especially around the water pools, spoonbills, yellow bills, maribous, stillts, lapwings, etc… Seeing the oryx and springboks in the Kalahari was a treat. Total different and harsh ecology in the desert and we loved seeing it through Master's ancestral eyes.
Saw where the Owen's camp had been nearby in a an Acacia grove and could only visualize ghosts of what may have been in their crazy bur dedicated hyena/lion research back then.
Ollie was superb, cooking and laughing, great breads and stuff. Ruff was essential to everything. What a great package.
Stu and Martha (May 2023)

"Lazy River is a low-hanging fruit in terms of visiting the Okavango. The island is not very far from Maun, some 1.5 hours drive. A visit does not need national park/game reserve permits – just a booking with Dave & Helene. And prices are affordable…You really need a 4wd to get there, though.
The camp itself is a pretty tranquil place. Chilled is a good adjective to describe it. Very nice facilities – basic, but very "climatic", aesthetic, down to earth. You feel very close to the sticky, prickly bush all the time, but there is no need to suffer.
The camp offers this rather interesting feel of interactions between man and nature. Yes, there are hippos and elephants passing by and lions roaring at night. But you can also hear cattle bells, and the camp shares the island with a small agricultural project. So it is not your "colonial safari experience", it is a more modern, "woke" experience of much more "real" nature.
We spent a wonderful weekend there, and we will come back for more…"
-Piotr (July 2021)
Lazy River Okavango Island Hideaway
next 1 night Yoga retreat
Friday 10th November